Art and culture are no longer merely aesthetics but interventions into our social structures, iconic markers and tools that allow us to record, process and document world events. While art is an expression of human engagement, the ongoing pandemic has forced isolation upon humankind as a shared experience. It has become vital now more than ever to appreciate that the arts are embedded in a wider online experience in terms of both, current and archived data.
At any given time in history, keeping art relevant to a diverse set of viewers raises some poignant questions: should the work be considered under a specific criteria or time period or is there a point of view being annexed to enhance the thematic experience of the exhibit? As an independent curator seeking to develop research-based projects, the ever-evolving aim is to approach these concerns and to continue to add to contemporary discourse.
Third Space: Room 1 is the first of such rooms – a collection of independent works by select Pakistani artists of established and emerging talents, each embodying individuality and sensitivity that connects on a personal as well as universal level. Owing to the times, these artworks are a representation of perseverance in the face of a mutating virus, isolation, overcoming personal struggle and navigating a sense of anonymity as each artist creates irrespective of the others.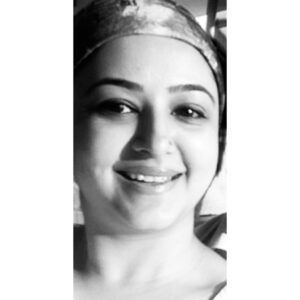 Maliha Peracha, born and based in Karachi, is a visual artist and educationalist; she is former faculty of the National College of Arts in Lahore, Pakistan, and Yadawei Ceramic Studio in Dubai, UAE. She was awarded the DAAD Scholarship to Germany in 2005 and she held second place in the Dubai Ceramic Award 2017. Currently, Maliha works as a researcher, art consultant and independent curator.
Since 2020, she has co-curated two online and various on-ground exhibitions. In 2021, Gardenfinds Two by Usman Saeed was her first independent curatorial experience.
Third Space: Room 1 is her inaugural collaboration with Khamsa Art to commemorate the Online Gallery's first year anniversary.